An organization web site is a great way to publicize a charter, keep members informed, and attract a broader audience. We'll use this site to get the word out on our organization and create a better sense of community among our members. We'll also include pictures of our work and members.
Our Mission
To better the world by Caesar's ruling.
Becoming a Member of the Caesar Fan Club
To become a member of the Julius Caesar fan club, all you need to do is follow these simple steps:

1) Swear unconditional love for Julius Caesar.

2) Say "Veni Vidi Vici", five times fast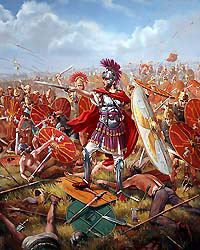 Organization News
UPDATE:
Second Triumvirate formed.
Will the threat of monarch live on in Caesar's wake?

UPDATE:
CAESAR MURDERED AT THE SENATE!
CIVIL DISORDER BREAKS OUT!

UPDATE:
Who wears the pants:
Calpurnia or Caesar?

UPDATE:
CAESAR DENIES THE CROWN!
[Read all about it]

UPDATE:
Soothsayer bewarns the ides of March.

UPDATE:
Calpurnia hit in the Festival of Lupercalia...
Will Caesar go from "Warrior of Rome" to "Father of the Year?"

UPDATE:
Caesar defeats the sons of Pompey!
Will the Triumvirate become a monarchy?